The Elder Scrolls Online, Map of Stormhaven
Stormhaven
Stormhaven is the south region of High Rock. The city of Wayrest, the home of High King Emeric, is located here.
Alliance: Daggerfall Covenant.
Part of: High Rock (The homeland of the Bretons).
Capital City: Wayrest. Settlements: Alcaire Castle, Koeglin Village.
Stormhaven Skyshards
On Koeglin's crown (Northwest of Koeglin Village Wayshrine, on the hill near to the main road).
Atop the stairs of Newgate (Northwest of Alcaire Castle Wayshrine, next to the gate that leads to Rivenspire).
Beside the henge of Nightmare Crag (Southeast of Koeglin Village Wayshrine, on the top of Nightmare Crag).
At the foot of Wind Keep's falls (Northwest of Wind Keep Wayshrine, above the waterfalls north of Wind Keep).
Before a breach in Aphren's wall (North of Dro-Dara Plantation Wayshrine, in the western part of Aphren's Hold ruins).
Atop the soulless tower (South of Soulshriven Wayshrine, at the top of Soulshriven Tower).
In the monster's pantry (East of Wind Keep Wayshrine, next to Scrag's Larder).
Where the giant's tears fall (North of Weeping Giant and Weeping Giant Wayshrine).
Camped in sight of the eastern gate (East of Weeping Giant Wayshrine, near to Ancient Altar).
Delve deep with the bear's claw (Inside Bearclaw Mine solo dungeon).
Locked behind Farangel's iron bars (Inside Farangel's Delve solo dungeon).
Mine your manners outside Steelheart (Inside Koeglin Mine solo dungeon).
Explore the ruins north of Wind's Keep (Inside Norvulk Ruins solo dungeon).
Comb the abbey's catacombs (Inside Pariah Catacombs solo dungeon).
West of Firebrand, deep beneath the tower (Inside Portdun Watch solo dungeon).
Explore the ruins of broken marrow (Inside Bonesnap Ruins public dungeon).
Bonesnap Ruins (Public Dungeon)
Name
Description
Points
Category
Bonesnap Ruins Vanquisher
Defeat three of the champions in Bonesnap Ruins.
10
Dungeons:
Public Dungeons
Bonesnap Ruins Conqueror
Defeat all of the champions in Bonesnap Ruins.
50
Dungeons:
Public Dungeons
Bonesnap Ruins Group Event
Slay the Eternal One in the Bonesnap Ruins.
50
Dungeons:
Public Dungeons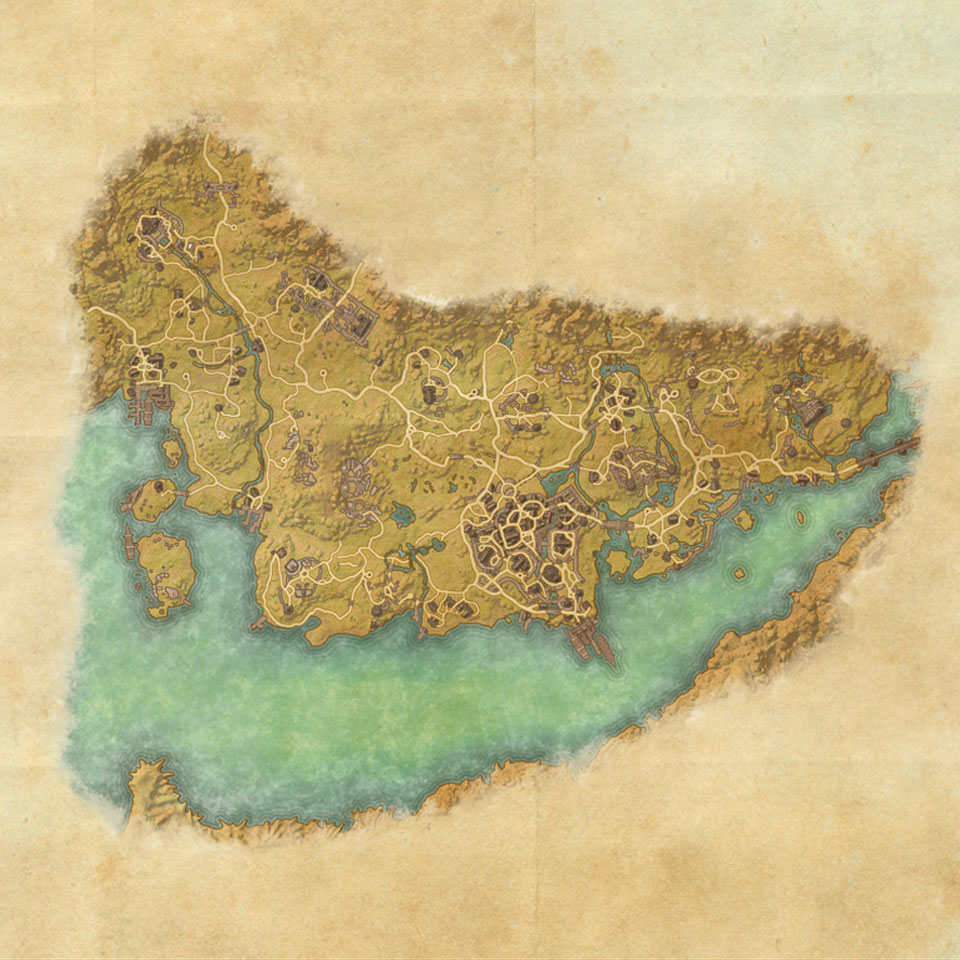 Stormhaven
Wayrest
Alcaire Castle
Koeglin Village
Wayrest
Alcaire Castle
Koeglin Village
Dreughside
Firebrand Keep
Shinji's Scarp
Wind Keep
Farangel's Landing
Steelheart Moorings
Koeglin Lighthouse
At-Tura Estate
Pariah Abbey
Dro-Dara Plantation
Nurin Farm
Vanne Farm
Soulshriven Tower
Weeping Giant
Cumberland's Watch
Aphren's Hold
Wayrest Sewers
Bonesnap Ruins
Bearclaw Mine
Farangel's Delve
Koeglin Mine
Norvulk Ruins
Pariah Catacombs
Portdun Watch
Abandoned Farm

---

This is a farm inhabited by a daedroth named Gar Xuu Gar.

Achievement:

Gar Xuu Gar's Bane: Defeat the Daedroth Gar Xuu Gar and his minions at the Abandoned Farm.
Ancient Altar

---

This is a ruin guarded by a storm atronach named Zymel Kruz.

Achievement:

Kruz Control: Defeat Zymel Kruz the Storm Atronach at the Ancient Altar.
Dreugh Waters

---

This is a lake in central Stormhaven inhabited by the dreughs.

Achievement:

Brood Queen Destroyer: Defeat the Dreugh Brood Queen at the Dreugh Waters.
Mudcrab Beach

---

This is a beach on a large island in southwestern Stormhaven. A mudcrab named Titanclaw resides here.

Achievement:

Titanclaw Cracker: Defeat Titanclaw the mudcrab at Mudcrab Beach.
Scrag's Larder

---

This is a camp inhabited by an ogre named Cousin Scrag.

Achievement:

Cousin Scrag's Demolisher: Defeat the Ogre called Cousin Scrag at Scrag's Larder.
Spider Nest

---

This is a den in northwestern Stormhaven inhabited by the spiders.

Achievement:

Spider Slayer: Defeat Old Widow Silk and the Bloodweaver spiders at the Spider Nest.
Moonlit Maw
Windridge Cave
Alcaire Dolmen
Gavaudon Dolmen
Menevia Dolmen
The Lord

---

This is a Mundus Stone found in Grahtwood, Stormhaven, and Deshaan. Activating the Lord stone will grant you the permanent blessing of increased health.
The Mage

---

This is a Mundus Stone found in Grahtwood, Stormhaven, Deshaan, and Cyrodiil. Activating the Mage stone will grant you the permanent blessing of increased magicka.
The Tower

---

This is a Mundus Stone found in Grahtwood, Stormhaven, Deshaan, and Cyrodiil. Activating the Tower stone will grant you the permanent blessing of increased stamina.
Fisherman's Island

---

This is an island in eastern Stormhaven, which contains a special crafting site, where you may craft items in the Seducer set.
Hammerdeath Workshop

---

This is an old foundry northwest of Wayrest, which contains a special crafting site, where you may craft items in the Torug's Pact set.
Windridge Warehouse

---

This is an old building west of Firebrand Keep, which contains a special crafting site, where you may craft items in the Twilight's Embrace set.
Cave of Dreams
Cumberland Falls
Nightmare Crag
Shrine to Azura
Stonechewer Goblin Camp
Supernal Dreamers Camp
Travelers' Rest
Alcaire Castle Wayshrine
Bonesnap Ruins Wayshrine
Dro-Dara Plantation Wayshrine
Firebrand Keep Wayshrine
Koeglin Village Wayshrine
Pariah Abbey Wayshrine
Soulshriven Wayshrine
Wayrest Wayshrine
Weeping Giant Wayshrine
Wind Keep Wayshrine
Stormhaven Treasure Map I
Stormhaven Treasure Map II
Stormhaven Treasure Map III
Stormhaven Treasure Map IV
Stormhaven Treasure Map V
Stormhaven Treasure Map VI
Stormhaven Treasure Map CE
Alchemist Survey: Stormhaven
Blacksmith Survey: Stormhaven
Clothier Survey: Stormhaven
Enchanter Survey: Stormhaven
Woodworker Survey: Stormhaven
Skyshard (On Koeglin's crown)
Skyshard (Atop the stairs of Newgate)
Skyshard (Beside the henge of Nightmare Crag)
Skyshard (At the foot of Wind Keep's falls)
Skyshard (Before a breach in Aphren's wall)
Skyshard (Atop the soulless tower)
Skyshard (In the monster's pantry)
Skyshard (Where the giant's tears fall)
Skyshard (Camped in sight of the eastern gate)
Skyshard (Delve deep with the bear's claw)
Skyshard (Locked behind Farangel's iron bars)
Skyshard (Mine your manners outside Steelheart)
Skyshard (Explore the ruins north of Wind's Keep)
Skyshard (Comb the abbey's catacombs)
Skyshard (West of Firebrand, deep beneath the tower)
Skyshard (Explore the ruins of broken marrow)