The Elder Scrolls Online, Map of Reaper's March
Reaper's March
The rolling grasslands of Elsweyr meet northern Valenwood's forests in this embattled territory. Reaper's March is a region with a unique mixture of Bosmer and Khajiiti culture.
Alliance: Aldmeri Dominion.
Part of: Elsweyr and Valenwood.
Cities: Arenthia, Dune, Rawl'kha.
Reaper's March Skyshards
East from the solemn eye's shrine (East of Fort Grimwatch Wayshrine, close to the main road).
Where temple became tree-house (Southeast of Fort Grimwatch Wayshrine, in the southern part of Greenhill).
In a smoldering shell (North of Fort Grimwatch Wayshrine, within Old Town Cavern crafting camp).
Overlooking the site of the fall (West of Rawl'kha Wayshrine, southeast of Vinedusk Wayshrine).
Camped on the way to Claw's Strike (Southwest of Rawl'kha Wayshrine, next to a bridge north of Jodewood Dolmen).
Hidden by a less subtle blade (Southwest of Rawl'kha Wayshrine, near to the ayleid ruins Thormar).
Dune's arcane beacon (East of Dune Wayshrine, on the second floor of Mages Guild in Dune).
Mara's devout frets in view (North of Fort Sphinxmoth Wayshrine).
Within earshot of the cheering crowd (Northwest of Sren-ja Wayshrine, between Reaper's Henge and Dawnmead Brigand Camp).
Growling, beastly gladiators prowl (Inside Kuna's Delve solo dungeon).
Treasure of the bard's tomb (Inside Thibaut's Cairn solo dungeon).
Awash in tears underground (Inside Weeping Wind Cave solo dungeon).
Outlaws strike skooma deals here (Inside Claw's Strike solo dungeon).
The folly is in passing through quickly (Inside Fardir's Folly solo dungeon).
Moon's light reveals its secret (Inside Jode's Light solo dungeon).
Far beneath a foul manor (Inside The Vile Manse public dungeon).
The Vile Manse (Public Dungeon)
Name
Description
Points
Category
The Vile Manse Vanquisher
Defeat three of the champions in The Vile Manse.
10
Dungeons:
Public Dungeons
The Vile Manse Conqueror
Defeat all of the champions in The Vile Manse.
50
Dungeons:
Public Dungeons
The Vile Manse Group Event
Defeat the damned creations of Graccus' frost experiments at the Vile Manse.
50
Dungeons:
Public Dungeons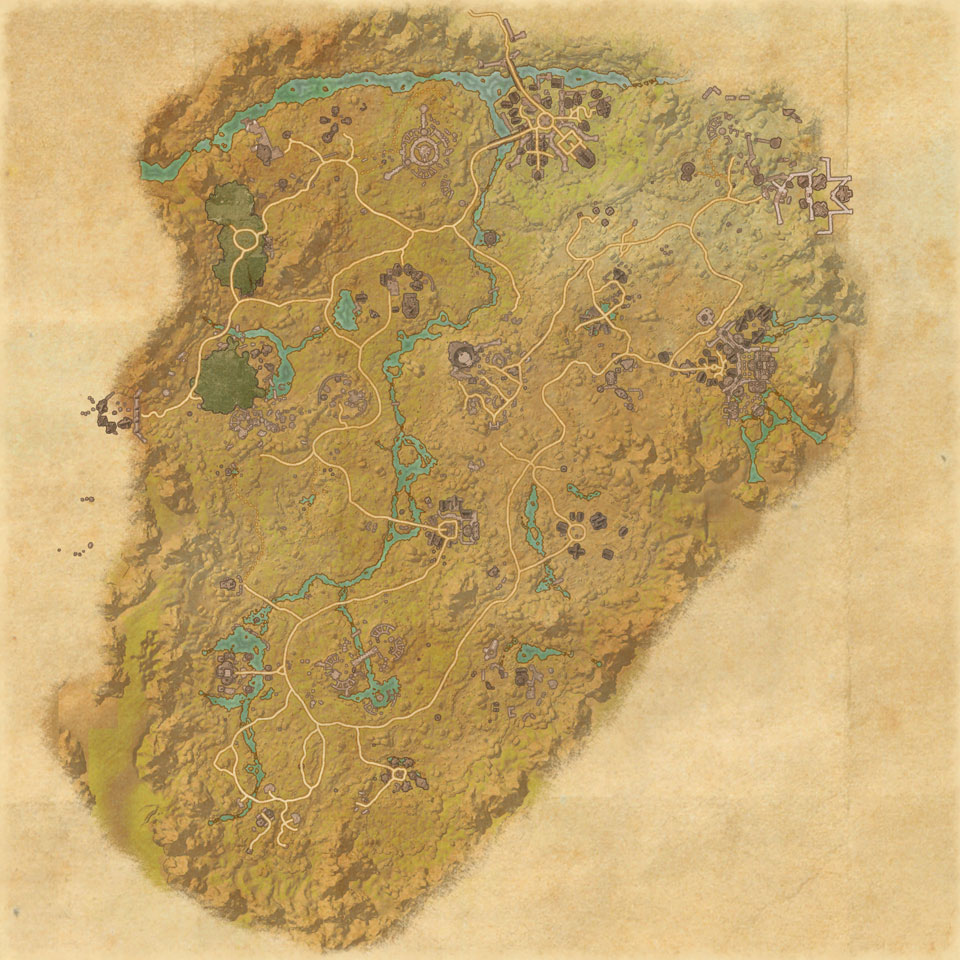 Reaper's March
Arenthia
Dune
Rawl'kha
Arenthia
Dune
Rawl'kha
Do'Krin Monastery
Pa'alat
S'ren-ja
Vinedusk Village
Willowgrove
Fort Grimwatch
Greenhill
Hadran's Caravan
Thizzrini Arena
Senalana
Thormar
Falinesti Autumn Site
Fort Sphinxmoth
Two Moons Path
Moonmont
Selene's Web
The Vile Manse
Claw's Strike
Fardir's Folly
Jode's Light
Kuna's Delve
Thibaut's Cairn
Weeping Wind Cave
Big Ozur's Valley

---

This is a small valley inhabited by the ogres. An ogre named Big Ozur can be found here.

Achievement:

Big Ozur's Bane: Defeat Big Ozur the Ogre in Big Ozur's Valley.
Deathsong Cleft

---

This is a cleft located south of Vinedusk Village. The cleft is inhabited by the tainted plant creatures.

Achievement:

Deathsong Deforester: Destroy the tainted plant creatures at Deathsong Cleft in Reaper's March.
Old S'ren-ja Docks

---

This is an abandoned pier located south of S'ren-ja. The pier is occupied by a daedroth named Ysolmarr the Roving Pyre.

Achievement:

Ysolmarr's Ruin: Defeat the Daedroth, Ysolmarr the Roving Pyre, near the Old S'ren-ja Docks in Reaper's March.
Reaper's Henge

---

This is a grove north of Rawl'kha occupied by a necromancer named Gravecaller Niramo.

Achievement:

Gravecaller's Doom: Defeat Gravecaller Niramo and his dark daughter Varien at the Reaper's Henge.
Ushmal's Rest

---

This is a graveyard just north of Pa'alat inhabited by the vampires.

Achievement:

Nur-dro's Downfall: Defeat the vampire, Overlord Nur-dro, at Ushmal's Rest in Reaper's March.
Waterdancer Falls

---

This is a waterfall north of Moonmont guarded by the nereids.

Achievement:

Mercy Killer: Defeat the Queen of Three Mercies and her entourage at Waterdancer Falls in Reaper's March.
Dawnmead Dolmen
Jodewood Dolmen
Northern Woods Dolmen
The Apprentice

---

This is a Mundus Stone found in Reaper's March, Bangkorai, the Rift, and Cyrodiil. Activating the Apprentice stone will grant you the permanent blessing of increased spell penetration.
The Steed

---

This is a Mundus Stone found in Reaper's March, Bangkorai, the Rift, and Cyrodiil. Activating the Steed stone will grant you the permanent blessing of increased run speed.
Broken Arch

---

This is a ruin located east of Do'Krin Monastery. The ruin contains a special crafting site, where you may craft items in the Hunding's Rage set.
Greenspeaker's Grove

---

This is a grove located northeast of Vinedusk Village. The grove contains a special crafting site, where you may craft items in the Willow's Path set.
Old Town Cavern

---

This is a cave located west of Senalana. The cave contains a special crafting site, where you may craft items in the Night Mother's Gaze set.
Crescent River Camp
Dawnmead Brigand Camp
Dawnmead Ruin Camp
Fishing Dock
Little Ozur's Camp
Researcher's Camp
Willowgrove Cavern
Arenthia Wayshrine
Dune Wayshrine
Fort Grimwatch Wayshrine
Fort Sphinxmoth Wayshrine
Moonmont Wayshrine
Rawl'kha Wayshrine
Sren-ja Wayshrine
Vinedusk Wayshrine
Willowgrove Wayshrine
Reaper's March Treasure Map I
Reaper's March Treasure Map II
Reaper's March Treasure Map III
Reaper's March Treasure Map IV
Reaper's March Treasure Map V
Reaper's March Treasure Map VI
Reaper's March Treasure Map CE
Blacksmith Survey: Reaper's March
Clothier Survey: Reaper's March
Enchanter Survey: Reaper's March
Woodworker Survey: Reaper's March
Skyshard (East from the solemn eye's shrine)
Skyshard (Where temple became tree-house)
Skyshard (In a smoldering shell)
Skyshard (Overlooking the site of the fall)
Skyshard (Camped on the way to Claw's Strike)
Skyshard (Hidden by a less subtle blade)
Skyshard (Dune's arcane beacon)
Skyshard (Mara's devout frets in view)
Skyshard (Within earshot of the cheering crowd)
Skyshard (Growling, beastly gladiators prowl)
Skyshard (Treasure of the bard's tomb)
Skyshard (Awash in tears underground)
Skyshard (Outlaws strike skooma deals here)
Skyshard (The folly is in passing through quickly)
Skyshard (Moon's light reveals its secret)
Skyshard (Far beneath a foul manor)