The Elder Scrolls Online, Map of Eastmarch
Eastmarch
Eastmarch stretches from the frozen, jagged northern coastline into southern Skyrim's volcanic tundra. It is inhabited by a few hardy settlers, and formidable creatures, including giants. Its capital is Windhelm, the home of the Jorunn the Skald-King, High King of Skyrim, and leader of the Ebonheart Pact.
Alliance: Ebonheart Pact.
Part of: Skyrim (The homeland of the Nords).
Capital City: Windhelm. Stronghold: Fort Amol.
Eastmarch Skyshards
Nestled beside Morvunskar's royal tomb (Northwest of Fort Morvunskar Wayshrine).
Giants despoil the village below (Southeast of Windhelm Wayshrine, near to Giant's Heart).
Leave the hollow to cure the chill (East of Windhelm Wayshrine, next to The Chill Hollow dungeon).
Strewn between tusks near the barrow (Northwest of Wittestadr Wayshrine, northeast of Bonestrewn Crest).
Beside a bridge to Amol (East of Fort Amol Wayshrine, close by the bridge across Amol river).
Lost in ruins beyond the grotto (West of Fort Amol Wayshrine, southwest of The Frigid Grotto dungeon).
Mzulft's secrets are not all underground (Northeast of Logging Camp Wayshrine, in the ruins of Mzulft).
Attempting to spy on Aelif (Southeast of Logging Camp Wayshrine, west of Jorunn's Stand encampment).
Stashed near a farm in icy winds (Southwest of Logging Camp Wayshrine, near a small farm).
An illegitimate child's reading material (Inside The Bastard's Tomb solo dungeon).
Search the slipperiest places in the hollow (Inside The Chill Hollow solo dungeon).
Three eyes gleam, a frigid prize (Inside The Frigid Grotto solo dungeon).
Crashed from the sky to open the vault (Inside Icehammer's Vault solo dungeon).
Old Sord excelled at hide-and-seek (Inside Old Sord's Cave solo dungeon).
Among the dead, sheltered from storms (Inside Stormcrag Crypt solo dungeon).
Near a throne in the Hall of the Dead (Inside Hall of the Dead public dungeon).
Hall of the Dead (Public Dungeon)
Name
Description
Points
Category
Hall of the Dead Vanquisher
Defeat three of the champions in Hall of the Dead.
10
Dungeons:
Public Dungeons
Hall of the Dead Conqueror
Defeat all of the champions in Hall of the Dead.
50
Dungeons:
Public Dungeons
Hall of the Dead Group Event
Defeat Reynir the Destroyer and his minions in the Hall of the Dead.
50
Dungeons:
Public Dungeons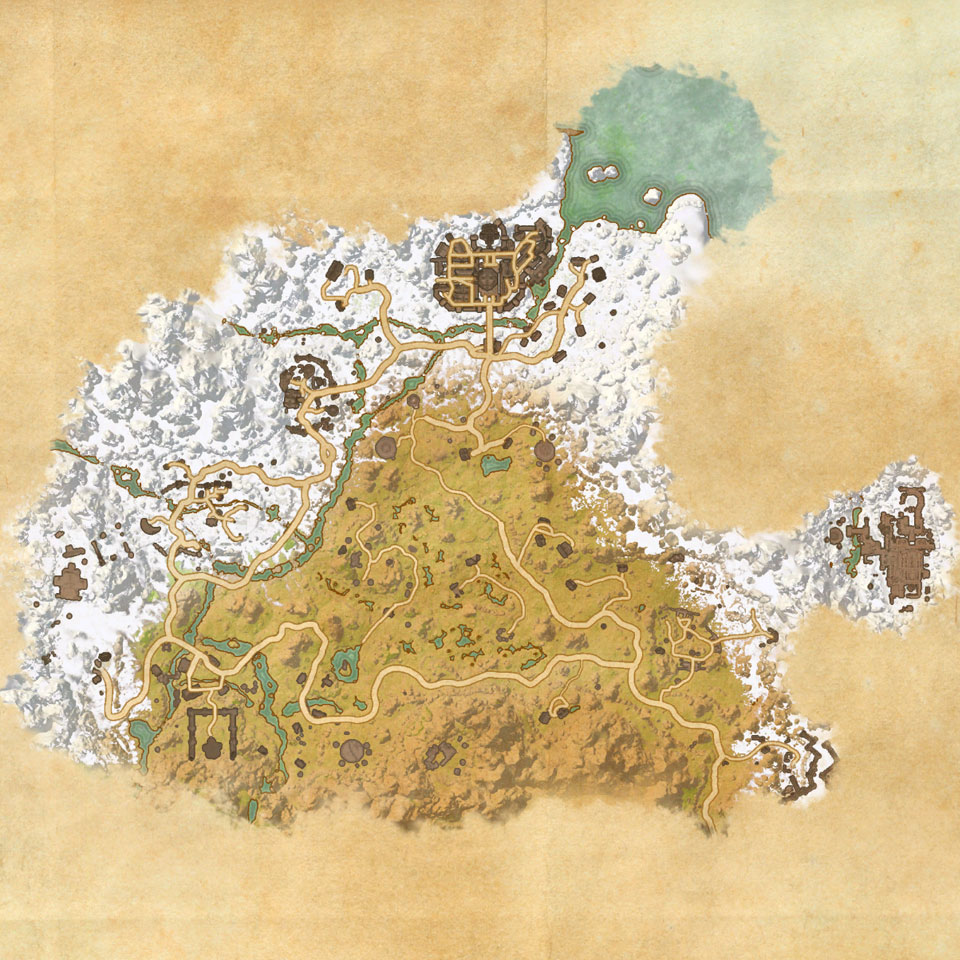 Eastmarch
Windhelm
Fort Amol
Windhelm
Fort Amol
Cradlecrush
Fort Morvunskar
Mistwatch
Cragwallow
Lower Yorgrim
Voljar's Meadery
Wittestadr
Jorunn's Stand
Thulvald's Logging Camp
Kynesgrove
Lost Knife Cave
Mzulft
Skuldafn
Bonestrewn Crest
Direfrost Keep
Hall of the Dead
The Bastard's Tomb
The Chill Hollow
The Frigid Grotto
Icehammer's Vault
Old Sord's Cave
Stormcrag Crypt
Ammabani's Pride

---

This is a place inhabited by the sabre cats. A great sabre cat named Ammabani can be found here.

Achievement:

Ammabani Hunter: Kill the great sabre cat, Ammabani, at Ammabani's Pride.
Dragon Mound

---

This is a dragon burial mound occupied by a necromancer named Vivien Armene.

Achievement:

Armene Hunter: Kill the Breton necromancer, Vivien Armene, at the Dragon Mound.
Dragon's Hallow

---

This is a dragon mound inhabited by a mammoth named Mannskadi and a giant named Ulgorus.

Achievement:

Mammoth Hunter: Kill the wild mammoth, Mannskadi, at Dragon's Hallow.
Rageclaw's Den

---

This is a clearing guarded by a werewolf named Rageclaw.

Achievement:

Rageclaw Hunter: Kill the great werewolf, Rageclaw, at Rageclaw's Den.
Ratmaster's Prowl

---

This is a camp inhabited by a vampire named Olveidi the Ratmaster.

Achievement:

Ratmaster Hunter: Kill the vampire, Olveidi the Ratmaster, at the Ratmaster's Prowl.
Swiftblade's Camp

---

This is a camp inhabited by a bear named Beralagr.

Achievement:

Beralagr Hunter: Kill the great bear, Beralagr, at Swiftblade's Camp.
Frostwater Tundra Dolmen
Giant's Run Dolmen
Icewind Peaks Dolmen
The Ritual

---

This is a Mundus Stone found in Malabal Tor, Alik'r Desert, Eastmarch, and Cyrodiil. Activating the Ritual stone will grant you the permanent blessing of increased healing effectiveness.
The Thief

---

This is a Mundus Stone found in Malabal Tor, Alik'r Desert, Eastmarch, and Cyrodiil. Activating the Thief stone will grant you the permanent blessing of increased critical chance.
The Warrior

---

This is a Mundus Stone found in Malabal Tor, Alik'r Desert, Eastmarch, and Cyrodiil. Activating the Warrior stone will grant you the permanent blessing of increased power.
Crimson Kada's Crafting Cavern

---

This is a cave located northeast of Fort Amol. The cave contains a special crafting site, where you may craft items in the Vampire's Kiss set.
Hammerhome

---

This is a ruin located north of the Rift gate. The ruin contains a special crafting site, where you may craft items in the Alessia's Bulwark set.
Tinkerer Tobin's Workshop

---

This is a workshop located south of Kynesgrove. The shop contains a special crafting site, where you may craft items in the Song of Lamae set.
Bitterblade's Camp
Cragwallow Cave
Darkwater Crossing
Giant's Heart
Hermit's Hideout
Ragnthar
Thane Jeggi's Drinking Hole
Cradlecrush Wayshrine
Fort Amol Wayshrine
Fort Morvunskar Wayshrine
Jorunn's Stand Wayshrine
Kynesgrove Wayshrine
Logging Camp Wayshrine
Mistwatch Wayshrine
Skuldafn Wayshrine
Voljar Meadery Wayshrine
Windhelm Wayshrine
Wittestadr Wayshrine
Eastmarch Treasure Map I
Eastmarch Treasure Map II
Eastmarch Treasure Map III
Eastmarch Treasure Map IV
Eastmarch Treasure Map V
Eastmarch Treasure Map VI
Eastmarch Treasure Map CE
Alchemist Survey: Eastmarch
Blacksmith Survey: Eastmarch
Clothier Survey: Eastmarch
Enchanter Survey: Eastmarch
Woodworker Survey: Eastmarch
Skyshard (Nestled beside Morvunskar's royal tomb)
Skyshard (Giants despoil the village below)
Skyshard (Leave the hollow to cure the chill)
Skyshard (Strewn between tusks near the barrow)
Skyshard (Beside a bridge to Amol)
Skyshard (Lost in ruins beyond the grotto)
Skyshard (Mzulft's secrets are not all underground)
Skyshard (Attempting to spy on Aelif)
Skyshard (Stashed near a farm in icy winds)
Skyshard (An illegitimate child's reading material)
Skyshard (Search the slipperiest places in the hollow)
Skyshard (Three eyes gleam, a frigid prize)
Skyshard (Crashed from the sky to open the vault)
Skyshard (Old Sord excelled at hide-and-seek)
Skyshard (Among the dead, sheltered from storms)
Skyshard (Near a throne in the Hall of the Dead)