The Elder Scrolls Online, Map of Auridon
Auridon
Tall, craggy cliffs and exotic forests surround Firsthold, an elegant city of the High Elves. Auridon is renowned for its unique architecture and magnificent gardens.
Alliance: Aldmeri Dominion.
Part of: Summerset Isles (The homeland of the High Elves).
Cities: Firsthold, Skywatch, Vulkhel Guard.
Auridon Skyshards
A landing of noble's blood (West of Vulkhel Guard Wayshrine, on the second floor of Vulkhel Guard Manor & Treasury).
Adorns Valano's terrace (Northeast of Vulkhel Guard Wayshrine, on the top floor of Valano Manor in Silsailen).
Offered to appease riled ancestors (Southwest of Tanzelwil Wayshrine, in the southern part of Tanzelwil ruins).
Watching the sky in a tower of swords (East of Skywatch Wayshrine, on the second floor of Fighter's Guild in Skywatch).
Between cursed ruin and shrine (Just east of Quendeluun Wayshrine, between a stone wall and a large rock).
Near Merormo's refreshment (Northwest of Mathiisen Wayshrine, near to Merormo's Tower).
Contemplation's overlook (West of College Wayshrine, on top of a waterfall near to Isle of Contemplation).
Up and west in the broken dawn (Southwest of College Wayshrine, inside one of wrecked buildings in Dawnbreak).
Gleaming beacon, ship-guide (Northeast of Firsthold Wayshrine, on the upper floor of North Beacon Lighthouse).
Ancient chamber of golden glow (Inside Bewan solo dungeon).
The Heritance stakes this claim (Inside Del's Claim solo dungeon).
Near the folly's end (Inside Entila's Folly solo dungeon).
Held in a corner by the House of Troubles (Inside Mehrunes' Spite solo dungeon).
Blood-drained thralls stumble past (Inside Ondil solo dungeon).
Corpses from another age walk here (Inside Wansalen solo dungeon).
Hidden home in the gully's wall (Inside Toothmaul Gully public dungeon).
Toothmaul Gully (Public Dungeon)
Name
Description
Points
Category
Toothmaul Gully Vanquisher
Defeat three of the champions in Toothmaul Gully.
10
Dungeons:
Public Dungeons
Toothmaul Gully Conqueror
Defeat all of the champions in Toothmaul Gully.
50
Dungeons:
Public Dungeons
Toothmaul Gully Group Event
Destroy Bloodroot and its guardians at Toothmaul Gully.
50
Dungeons:
Public Dungeons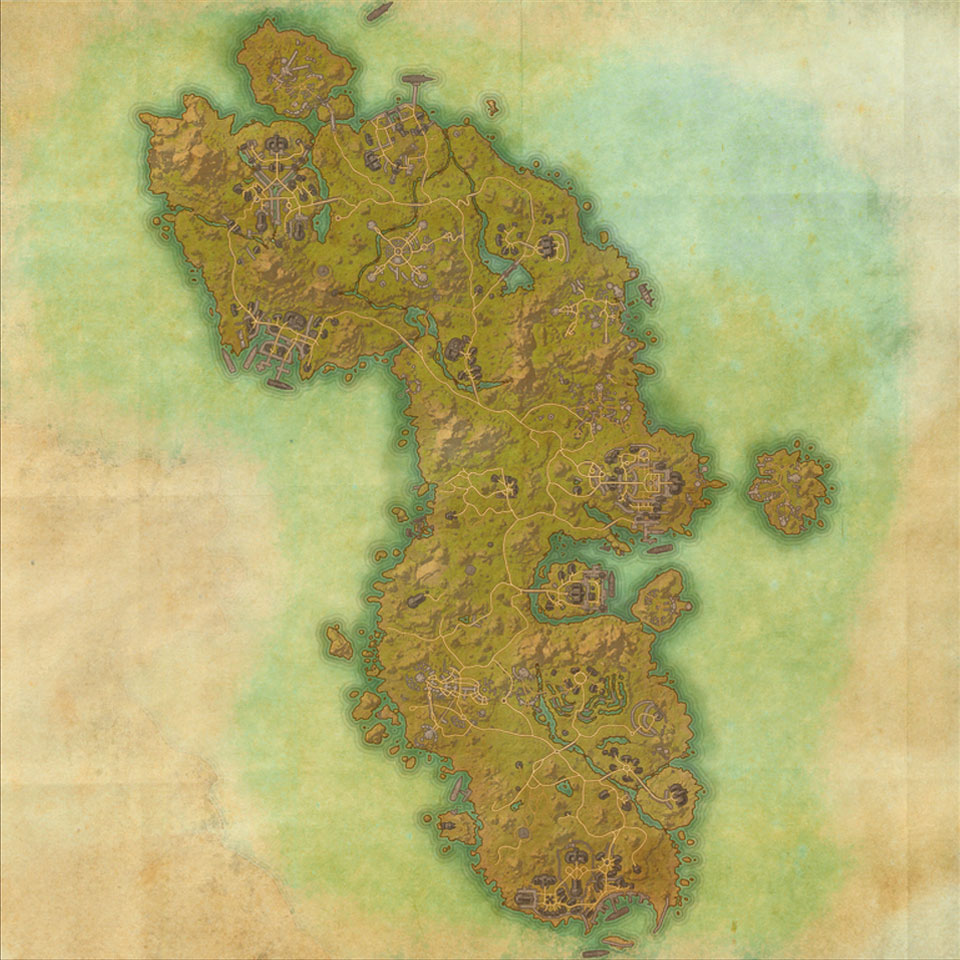 Auridon
Firsthold
Skywatch
Vulkhel Guard
Firsthold
Skywatch
Vulkhel Guard
College of Aldmeri Propriety
Dawnbreak
Greenwater Cove
Mathiisen
Phaer
Shattered Grove
Silsailen
North Beacon
South Beacon
The Harborage
Glister Vale
Ezduiin
Quendeluun
Tanzelwil
Torinaan
Castle Rilis
The Banished Cells
Toothmaul Gully
Bewan

---

This is an elven ruin occupied by Sea Vipers.

Quest:

Lost Bet: Help Beddi's ghost settle an ongoing wager with Angrel in Vulkhel Guard.

Achievement:

Bewan Explorer: Explore and clear Bewan (Completion: Kill Camandar).
Del's Claim

---

This is a mine occupied by the Veiled Heritance.

Achievement:

Del's Claim Explorer: Explore and clear Del's Claim (Completion: Kill Polinus).
Entila's Folly

---

This is an abandoned mine inhabited by the spiders and a crazed Khajiit.

Achievement:

Entila's Folly Explorer: Explore and clear Entila's Folly (Completion: Kill Bakhig).
Mehrunes' Spite

---

This is a Daedric ruin inhabited by the Daedra.

Quest:

Take Me Home: Help a lost scamp, Ozozur, find its way home.

Achievement:

Mehrunes' Spite Explorer: Explore and clear Mehrunes' Spite (Completion: Kill Mati).
Ondil

---

This is an Ayleid ruin occupied by the bloodthralls.

Quest:

Long Lost Lore: Recover four ancient tomes from Ondil and deliver them to Valaste in the Mages Guild.

Achievement:

Ondil Explorer: Explore and clear Ondil (Completion: Kill Alvius).
Wansalen

---

This is an Ayleid ruin located on the western edge of Quendeluun.

Achievement:

Wansalen Explorer: Explore and clear Wansalen (Completion: Kill Nolonir).
Heretic's Summons

---

This is a small camp. A clannfear named Snapjaw inhabits the camp.

Achievement:

Snapjaw's Bane: Defeat the clannfear champion, Snapjaw, and end the murder of innocents at Heretic's Summons.
Heritance Proving Ground

---

This is a small camp, which is the headquarters of the Veiled Heritance.

Achievement:

Anarume Bounty Hunter: Defeat Anarume at the Heritance Proving Ground and end his treason.
Nestmother's Den

---

This is a small cave. It is full of giant snakes, all the spawn of the Nestmother.

Achievement:

Nestmother Eradicator: Defeat the giant snake known as the Nestmother in her den.
Seaside Scarp Camp

---

This is a small camp, which is the headquarters of Auridon's bandit gangs.

Achievement:

Bandit Lord Bounty Hunter: Defeat Quenyas, leader of Auridon's bandit gangs, in the camp at Seaside Scarp.
Soulfire Plateau

---

This is a necromantic worship site inhabited by three necromancers: Quendia, Norendo, and Eraman. Several Auridon Marines have recently been killed here.

Achievement:

Marines Avenger: End the threat of the necromancers at Soulfire Plateau and avenge the First Auridon Marines.
Wreck of the Raptor

---

This is a shipwreck, which is home to the ghosts of the sailors led by Captain Blanchete and his monkey Hardtack.

Achievement:

Ghost Captain Crusher: Destroy Ghost Captain Blanchete at the Wreck of the Raptor.
Calambar Dolmen
Vafe Dolmen
Iluvamir Dolmen
The Lady

---

This is a Mundus Stone found in Auridon, Glenumbra, Stonefalls, and Cyrodiil. Activating the Lady stone will grant you the permanent blessing of increased armor.
The Lover

---

This is a Mundus Stone found in Auridon, Glenumbra, Stonefalls, and Cyrodiil. Activating the Lover stone will grant you the permanent blessing of reduced damage from spells.
Beacon Falls

---

This is an overlook located in northern Auridon, and is home to a special crafting site, where you may craft items in the Ashen Grip set.

Related Quest:

Final Blows: Find Calanyese, one of the Veiled Heritance Leaders.
Eastshore Islets Camp

---

This is a small camp located on the beach beneath Valano Manor, and is home to a special crafting site, where you may craft items in the Death's Wind set.
Hightide Keep

---

This is an abandoned ruin located on the beach below the cliffs of Skywatch, and is home to a special crafting site, where you may craft items in the Night's Silence set.

Lorebook:

Auridon Explored, Chapter VII (Collection: The World and Its Creatures)
Buraniim Isle
Errinorne Isle
Isle of Contemplation
Maormer Invasion Camp
Monkey's Rest
Nine-Prow Landing
Smuggler's Cove
Vulkhel Guard Wayshrine
Windy Glade Wayshrine
Tanzelwil Wayshrine
Skywatch Wayshrine
Quendeluun Wayshrine
Mathiisen Wayshrine
College Wayshrine
Firsthold Wayshrine
Greenwater Wayshrine
Phaer Wayshrine
Auridon Treasure Map I
Auridon Treasure Map II
Auridon Treasure Map III
Auridon Treasure Map IV
Auridon Treasure Map V
Auridon Treasure Map VI
Auridon Treasure Map CE
Alchemist Survey: Auridon
Blacksmith Survey: Auridon
Clothier Survey: Auridon
Enchanter Survey: Auridon
Woodworker Survey: Auridon
Skyshard (A landing of noble's blood)
Skyshard (Adorns Valano's terrace)
Skyshard (Offered to appease riled ancestors)
Skyshard (Watching the sky in a tower of swords)
Skyshard (Between cursed ruin and shrine)
Skyshard (Near Merormo's refreshment)
Skyshard (Contemplation's overlook)
Skyshard (Up and west in the broken dawn)
Skyshard (Gleaming beacon, ship-guide)
Skyshard (Ancient chamber of golden glow)
Skyshard (The Heritance stakes this claim)
Skyshard (Near the folly's end)
Skyshard (Held in a corner by the House of Troubles)
Skyshard (Blood-drained thralls stumble past)
Skyshard (Corpses from another age walk here)
Skyshard (Hidden home in the gully's wall)