The Elder Scrolls Online, Map of Stonefalls
Stonefalls
Stonefalls is a diverse region of Morrowind features landscapes ranging from fungal forests to barren volcanic crags.
Alliance: Ebonheart Pact.
Part of: Morrowind (The homeland of the Dark Elves).
Cities: Davon's Watch, Ebonheart, Kragenmoor.
Stonefalls Skyshards
Watching lions swim to shore (North of The Harborage, on a small hill).
Near Bal Foyen's gate (Southeast of Davon's Watch Wayshrine, near Bal Foyen's gate).
Staging an attack on Arand (Northwest of Fort Arand Wayshrine, between Emberflint Mine and Mephala's Nest).
A lady on a cliff, beyond Sulfur Pools (Southeast of Hrogar's Hold Wayshrine, west of Dagger's Point Invasion Camp).
Among mushrooms, high above Lukiul Uxith (On a cliff edge between Lukiul Uxith, Heimlyn Keep and Hrogar's Hold Wayshrine).
Among pools of fire, above Vivec's Wayshrine (Just south of Vivec's Antlers Wayshrine).
South on the Ashen Road, where lava flows (South of Ashen Road Wayshrine, next to Magmaflow Overlook).
Tucked away, on a grotto's mantel (West of Iliath Temple Wayshrine, above the entrance into Fungal Grotto).
On a hillside behind a plantation (Southwest of Sathram Plantation Wayshrine, on a hillside behind Sathram Plantation).
Left to rust beside ancient arms (Inside Inner Sea Armature solo dungeon).
Used to strike flames underground (Inside Emberflint Mine solo dungeon).
Listening to the Spinner's whispers (Inside Mephala's Nest solo dungeon).
Found in soft dirt by daggers (Inside Softloam Cavern solo dungeon).
Where a fiery tide rises (Inside Hightide Hollow solo dungeon).
Discovering a taste for madness (Inside Sheogorath's Tongue solo dungeon).
Drowned in the south by a clever bird (Inside Crow's Wood public dungeon).
Crow's Wood (Public Dungeon)
Name
Description
Points
Category
Crow's Wood Vanquisher
Defeat three of the champions in Crow's Wood.
10
Dungeons:
Public Dungeons
Crow's Wood Conqueror
Defeat all of the champions in Crow's Wood.
50
Dungeons:
Public Dungeons
Crow's Wood Group Event
Destroy the Soul Wraiths to summon and slay Ghyslain in Crow's Wood.
50
Dungeons:
Public Dungeons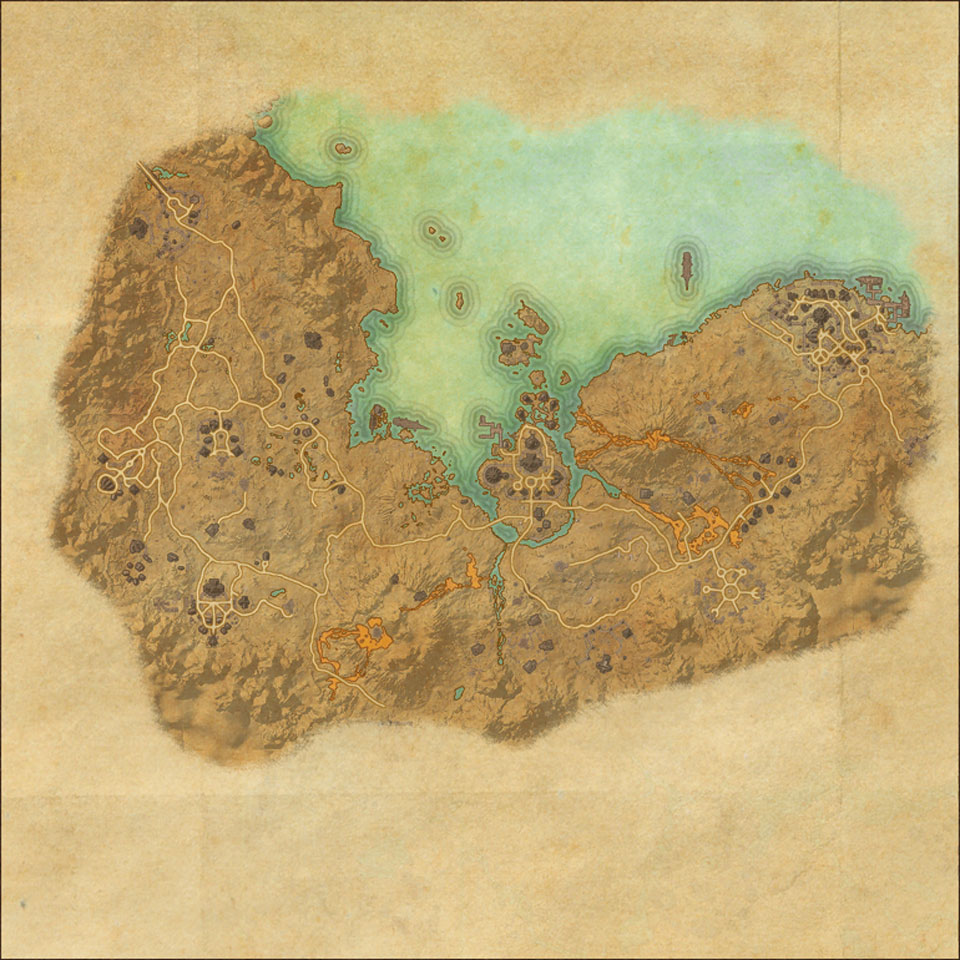 Stonefalls
Ebonheart
Davon's Watch
Kragenmoor
Ebonheart
Davon's Watch
Kragenmoor
Lukiul Uxith
Senie
Iliath Temple
Hrogar's Hold
Sathram Plantation
Sulfur Pools
The Harborage
Tormented Spire
Fort Arand
Fort Virak
Heimlyn Keep
Ash Mountain
Brothers of Strife
Othrenis
Starved Plain
Vivec's Antlers
Fungal Grotto
Crow's Wood
Emberflint Mine
Hightide Hollow
Inner Sea Armature
Mephala's Nest
Sheogorath's Tongue
Softloam Cavern
Cave of Memories

---

This is a cave guarded by hostile Ulath Ashlanders.

Achievement:

Memory Masher: Enter the Cave of Memories and destroy the Ashlander Guardian.
Shipwreck Strand

---

This is a wreck-strewn beach on the coast. A horde of blue sandcrabs spawn here, followed by a giant mudcrab Shellcracker.

Achievement:

Shellcracker: Survive the mudcrabs of Shipwreck Strand and kill Shellcracker, the cannibal crab.
Shivering Shrine

---

This is a Daedric ruin northeast of Kragenmoor. A golden saint named Aurig Mireh resides here.

Achievement:

Saintly Slaughter: Destroy the Golden Saint at the Shivering Shrine.
Strifeswarm Hive

---

This is a kwama mine south of Davon's Watch.

Achievement:

Strifeswarm Eradicator: Kill the champion of the Strifeswarm kwama hive.
The Brahma's Grove

---

This is a grove inhabited by an aggressive netch named Ozzacha and his two calves.

Achievement:

Netch Wrangler: Defeat the bull netch Ozzacha in Brahma's Grove.
The Matron's Clutch

---

This is an island covered in shipwrecks and swarming with dreugh.

Achievement:

Dreugh Destroyer: Storm the beach at Matron's Clutch, slay the Dreugh Matrons, and end the threat of the Dreugh egg-tenders.
Daen Seeth Dolmen
Varanis Dolmen
Zabamat Dolmen
The Lady

---

This is a Mundus Stone found in Auridon, Glenumbra, Stonefalls, and Cyrodiil. Activating the Lady stone will grant you the permanent blessing of increased armor.
The Lover

---

This is a Mundus Stone found in Auridon, Glenumbra, Stonefalls, and Cyrodiil. Activating the Lover stone will grant you the permanent blessing of reduced damage from spells.
Armature's Upheaval

---

This is a ruin south of Ebonheart which contains a special crafting site, where you may craft items in the Death's Wind set.
Magmaflow Overlook

---

This is a ruin northwest of the Deshaan gate which contains a special crafting site, where you may craft items in the Ashen Grip set.
Steamfont Cavern

---

This is a cave southwest of Davon's Watch which contains a special crafting site, where you may craft items in the Night's Silence set.
Dagger's Point Invasion Camp
Davenas Farm
Greymist Falls
Steamlake Encampment
Still-Water's Camp
Stonefang Isle
Strifeswarm Kwama Mine
Ashen Road Wayshrine
Brothers of Strife Wayshrine
Davon's Watch Wayshrine
Ebonheart Wayshrine
Fort Arand Wayshrine
Fort Virak Wayshrine
Hrogar's Hold Wayshrine
Iliath Temple Wayshrine
Kragenmoor Wayshrine
Othrenis Wayshrine
Sathram Plantation Wayshrine
Senie Wayshrine
Sulfur Pools Wayshrine
Vivec's Antlers Wayshrine
Stonefalls Treasure Map I
Stonefalls Treasure Map II
Stonefalls Treasure Map III
Stonefalls Treasure Map IV
Stonefalls Treasure Map V
Stonefalls Treasure Map VI
Stonefalls Treasure Map CE
Alchemist Survey: Stonefalls
Blacksmith Survey: Stonefalls
Clothier Survey: Stonefalls
Enchanter Survey: Stonefalls
Woodworker Survey: Stonefalls
Skyshard (Watching lions swim to shore)
Skyshard (Near Bal Foyen's gate)
Skyshard (Staging an attack on Arand)
Skyshard (A lady on a cliff, beyond Sulfur Pools)
Skyshard (Among mushrooms, high above Lukiul Uxith)
Skyshard (Among pools of fire, above Vivec's Wayshrine)
Skyshard (South on the Ashen Road, where lava flows)
Skyshard (Tucked away, on a grotto's mantel)
Skyshard (On a hillside behind a plantation)
Skyshard (Left to rust beside ancient arms)
Skyshard (Used to strike flames underground)
Skyshard (Listening to the Spinner's whispers)
Skyshard (Found in soft dirt by daggers)
Skyshard (Where a fiery tide rises)
Skyshard (Discovering a taste for madness)
Skyshard (Drowned in the south by a clever bird)