The Elder Scrolls Online, Map of Malabal Tor
Malabal Tor
Malabal Tor is the deepest heart of Valenwood, where little light reaches the forest floor. It is the site of many Bosmer traditions, possibly including cannibalism.
Alliance: Aldmeri Dominion.
Part of: Valenwood (The homeland of the Wood Elves).
Cities: Vulkwasten, Baandari Trading Post, Silvenar.
Malabal Tor Skyshards
On an orbit of the storm sphere's home (West of the Warrior mundus stone, northwest of Ilayas Ruins Wayshrine).
The best view of Fuller's Break (In the northern part of Ilayas Ruins, north of Ilayas Ruins Wayshrine).
Unnoticed by a melancholy Elf (South of the main road and Tahruin the Melancholy's camp, southwest of Dra'Bul Wayshrine).
Near the river, disentangled (Southwest of Vulkwasten and Vulkwasten Wayshrine, southeast of Hoarvor Pit).
Seek seaward cliffs by the brewery town (North of Vulkwasten Wayshrine, in the northern part of Vulkwasten).
Fell from a bridge fleeing Abamath (West of Bloodtoil Valley Wayshrine, close by a large wooden bridge).
Search every nook to lift the Vale (Southeast of Valeguard Wayshrine, at the bottom of large Valeguard's tree).
Eyed from an islet in the river (Southeast of Wilding Vale Wayshrine, on the western coast of a nearby river).
Follow the sound of the wilding waves (Northwest of Wilding Vale Wayshrine, just southwest of Windshriek Strand).
Withered within the vine (Inside Black Vine Ruins solo dungeon).
Dropped off when he still lived (Inside Dead Man's Drop solo dungeon).
Property of parasites (Inside Hoarvor Pit solo dungeon).
Fungus dwellers dig far from home (Inside Roots of Silvenar solo dungeon).
Part of Arrai's spectral dominion (Inside Shael Ruins solo dungeon).
Haunted by heretics (Inside Tomb of the Apostates solo dungeon).
Held by red-handed bandits (Inside Crimson Cove public dungeon).
Crimson Cove (Public Dungeon)
Name
Description
Points
Category
Crimson Cove Vanquisher
Defeat three of the champions in Crimson Cove.
10
Dungeons:
Public Dungeons
Crimson Cove Conqueror
Defeat all of the champions in Crimson Cove.
50
Dungeons:
Public Dungeons
Crimson Cove Group Event
Defeat Flat Tooth and his minions at Crimson Cove.
50
Dungeons:
Public Dungeons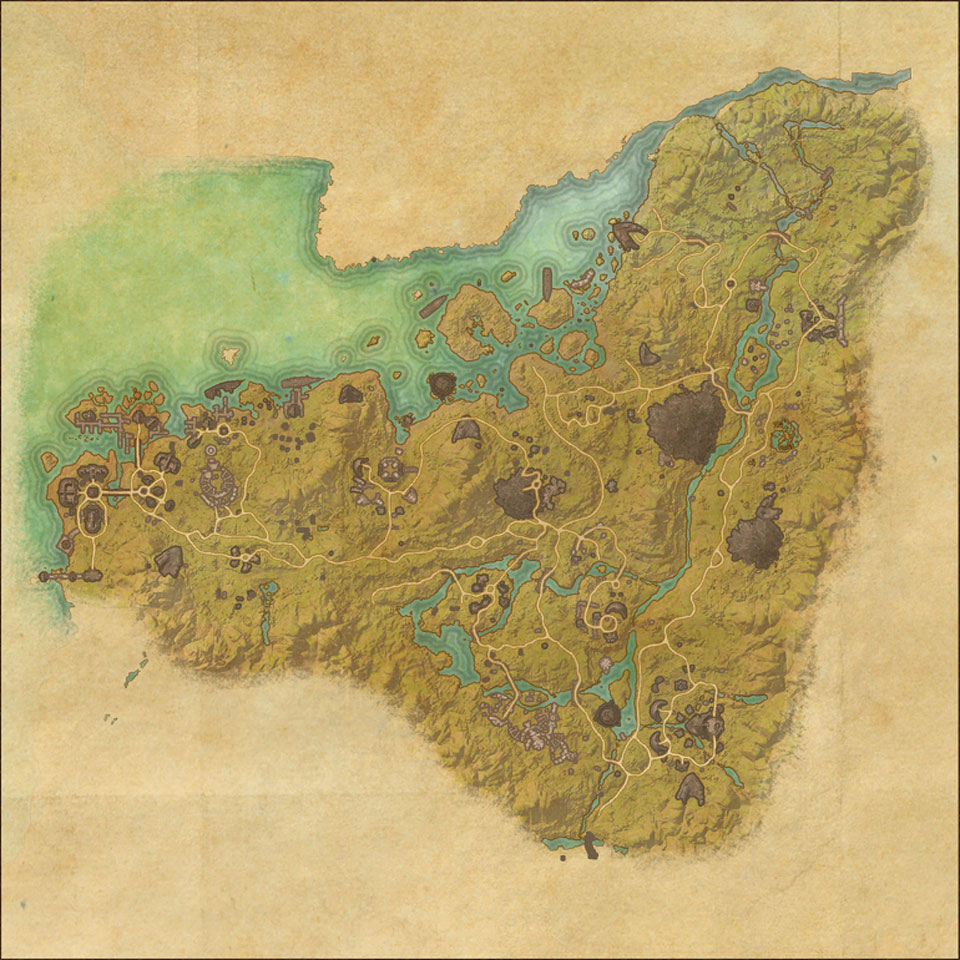 Malabal Tor
Baandari Trading Post
Velyn Harbor
Vulkwasten
Baandari Trading Post
Velyn Harbor
Vulkwasten
Silvenar
Bloodtoil Valley
Tanglehaven
Fuller's Break
Deepwoods
Falinesti Summer Site
Treehenge
Valeguard
Wilding Run
Dra'bul
Jode's Pocket
Abamath
Belarata
Ilayas Ruins
Jathsogur
Ouze
Tempest Island
Crimson Cove
Black Vine Ruins
Dead Man's Drop
Hoarvor Pit
Roots of Silvenar
Shael Ruins
Tomb of the Apostates
Bitterpoint Strand

---

This is an island north of Velyn Harbor. A crew of undead pirates reside here, led by Thjormar the Drowned.

Achievement:

Drowned Horde Decimater: Destroy Thjormar and the Drowned Horde at Bitterpoint Strand.
Bone Grappler's Nest

---

This is a peninsula on the lake south of Tanglehaven. The peninsula is home to a giant strangler named the Bone Grappler and two smaller stranglers named Marrow Feeders.

Achievement:

Bone Grappler's Bane: Kill the strangler Bone Grappler in its nest.
Dugan's Knoll

---

This is a hill inhabited by an orc named Dugan the Red and his two companions.

Achievement:

Dugan's Demolisher: Kill the Orc reaver Dugan the Red.
Jagged Grotto

---

This is a small cave inhabited by the nereid queen, Tallatta the Lustrous.

Achievement:

Tallatta's Annihilator: Kill the nereid queen Tallatta the Lustrous in the Jagged Grotto.
River Edge

---

This is a camp on a river bank east of Silvenar occupied by the Green Hunters.

Achievement:

Green Vanquisher: Kill Commander Faldethil of the Green Hunters at River Edge.
Windshriek Strand

---

This is a beach in northeastern Malabal Tor guarded by a sea troll named Skullbreaker.

Achievement:

Skullbreaker: Kill Skullbreaker the sea troll at Windshriek Strand.
Broken Coast Dolmen
Silvenar Vale Dolmen
Xylo River Basin Dolmen
The Ritual

---

This is a Mundus Stone found in Malabal Tor, Alik'r Desert, Eastmarch, and Cyrodiil. Activating the Ritual stone will grant you the permanent blessing of increased healing effectiveness.
The Thief

---

This is a Mundus Stone found in Malabal Tor, Alik'r Desert, Eastmarch, and Cyrodiil. Activating the Thief stone will grant you the permanent blessing of increased critical chance.
The Warrior

---

This is a Mundus Stone found in Malabal Tor, Alik'r Desert, Eastmarch, and Cyrodiil. Activating the Warrior stone will grant you the permanent blessing of increased power.
Chancel of Divine Entreaty

---

This is an Ayleid ruin and temple located west of Silvenar. The ruin contains a special crafting site, where you may craft items in the Alessia's Bulwark set.
Matthild's Last Venture

---

This is a camp located southeast of Ilayas Ruins. The camp contains a special crafting site, where you may craft items in the Vampire's Kiss set.
Sleepy Senche Overlook

---

This is an overlook located southeast of Bloodtoil Valley. The overlook contains a special crafting site, where you may craft items in the Song of Lamae set.
Four Quarry Islet
Horseshoe Island
Ogrim's Yawn
Ragnthar
Starwalk Cavern
Stranglewatch
Supplication House
Abamath Wayshrine
Baandari Trading Post Wayshrine
Bloodtoil Valley Wayshrine
Dra'Bul Wayshrine
Ilayas Ruins Wayshrine
Valeguard Wayshrine
Velyn Harbor Wayshrine
Vulkwasten Wayshrine
Wilding Vale Wayshrine
Malabal Tor Treasure Map I
Malabal Tor Treasure Map II
Malabal Tor Treasure Map III
Malabal Tor Treasure Map IV
Malabal Tor Treasure Map V
Malabal Tor Treasure Map VI
Malabal Tor Treasure Map CE
Alchemist Survey: Malabal Tor
Blacksmith Survey: Malabal Tor
Clothier Survey: Malabal Tor
Enchanter Survey: Malabal Tor
Woodworker Survey: Malabal Tor
Skyshard (On an orbit of the storm sphere's home)
Skyshard (The best view of Fuller's Break)
Skyshard (Unnoticed by a melancholy Elf)
Skyshard (Near the river, disentangled)
Skyshard (Seek seaward cliffs by the brewery town)
Skyshard (Fell from a bridge fleeing Abamath)
Skyshard (Search every nook to lift the Vale)
Skyshard (Eyed from an islet in the river)
Skyshard (Follow the sound of the wilding waves)
Skyshard (Withered within the vine)
Skyshard (Dropped off when he still lived)
Skyshard (Property of parasites)
Skyshard (Fungus dwellers dig far from home)
Skyshard (Part of Arrai's spectral dominion)
Skyshard (Haunted by heretics)
Skyshard (Held by red-handed bandits)