Shivering Isles, Map of The Fringe
Passwall sits in the Fringe of the Shivering Isles. It's where the supplicants wait while the Blessing of Sheogorath takes hold.
Through the Fringe of Madness: Get past the Gates of Madness.
Retaking The Fringe: Defend The Fringe and stop the Forces of Order.
Dredhwen, The Wastrel's Purse - Merchant (Armor, Weapons, Misc.)
Shelden, the "Mayor of Passwall"
Jayred Ice-Veins, a Nord sharpshooter
Relmyna Verenim, a powerful Sorceress
Nanette Don, Relmyna Verenim's latest apprentice
Felas Sarandas, a sufferer from mysophobia
Aurig Desha, a Golden Saint officer1
Grakendo Udico, a Dark Seducer Officer1
1This person only appears during Retaking The Fringe.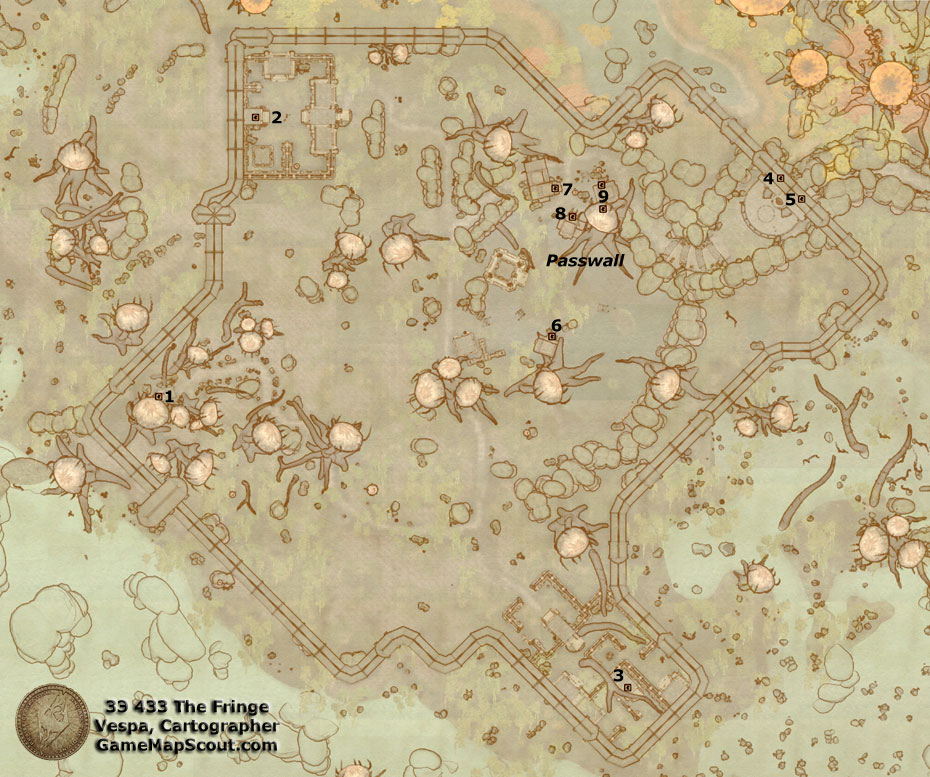 The Fringe: 1. Door to Cyrodiil, 2. Gardens of Flesh and Bone, 3. Xeddefen, 4. Mania Entrance, 5. Dementia Entrance
Passwall: 6. Jayred's House, 7. The Wastrel's Purse, 8. Shelden's House, 9. Nanette Don's House