The Elder Scrolls Online, Map of Alik'r Desert
Alik'r Desert
It is an arid wasteland where ancien ruins and deadly creatures lie hidden in the shifting sands.
Alliance: Daggerfall Covenant.
Part of: Hammerfell (The homeland of the Redguards).
Cities: Sentinel, Bergama, Kozanset.
Alik'r Desert Skyshards
Sentinel of a domed tower (On top of the Guard Tower in Sentinel, northeast of Sentinel Wayshrine).
Shedding shame in the oasis (On a small island in the middle of Goat's Head Oasis).
Across the ruin from the Warrior (In the area of Salas En ruins, southwest of Morwha's Bounty Wayshrine).
Stored on a Bergama roof (Inside one of the houses in Bergama).
Walltop view of the broken blade (South of Leki's Blade Wayshrine, on the west wall of Leki's Blade town).
Beside a drydocked stern (In the dry docks of Tava's Blessing, northeast of Aswala Stables Wayshrine).
Left out in the open by Kozanset Mages (On top of Mages Guild's building in Kozanset).
Near a paid feather-finder (North of Kozanset, next to a bridge across the sand dunes).
Tears shed for a toppled spire (Southeast of Shrikes' Aerie Wayshrine).
Second stop on her search for the Pearl (Inside Aldunz solo dungeon).
Buried respite from desert heat (Inside Coldrock Diggings solo dungeon).
Dig deep, don't be embarrassed (Inside Divad's Chagrin Mine solo dungeon).
Blown down a mine shaft (Inside Sandblown Mine solo dungeon).
A caravan's wreckage marks the path (Inside Santaki solo dungeon).
Trapped within the steam closet (Inside Yldzuun solo dungeon).
Monumental find in the Lost City (Inside Lost City of the Na-Totambu public dungeon).
Lost City of the Na-Totambu (Public Dungeon)
Name
Description
Points
Category
Lost City Vanquisher
Defeat three of the champions in Lost City of the Na-Totambu.
10
Dungeons:
Public Dungeons
Lost City Conqueror
Defeat all of the champions in Lost City of the Na-Totambu.
50
Dungeons:
Public Dungeons
Na-Totambu Group Event
Solve the puzzle of the Guardians in the Lost City of the Na-Totambu.
50
Dungeons:
Public Dungeons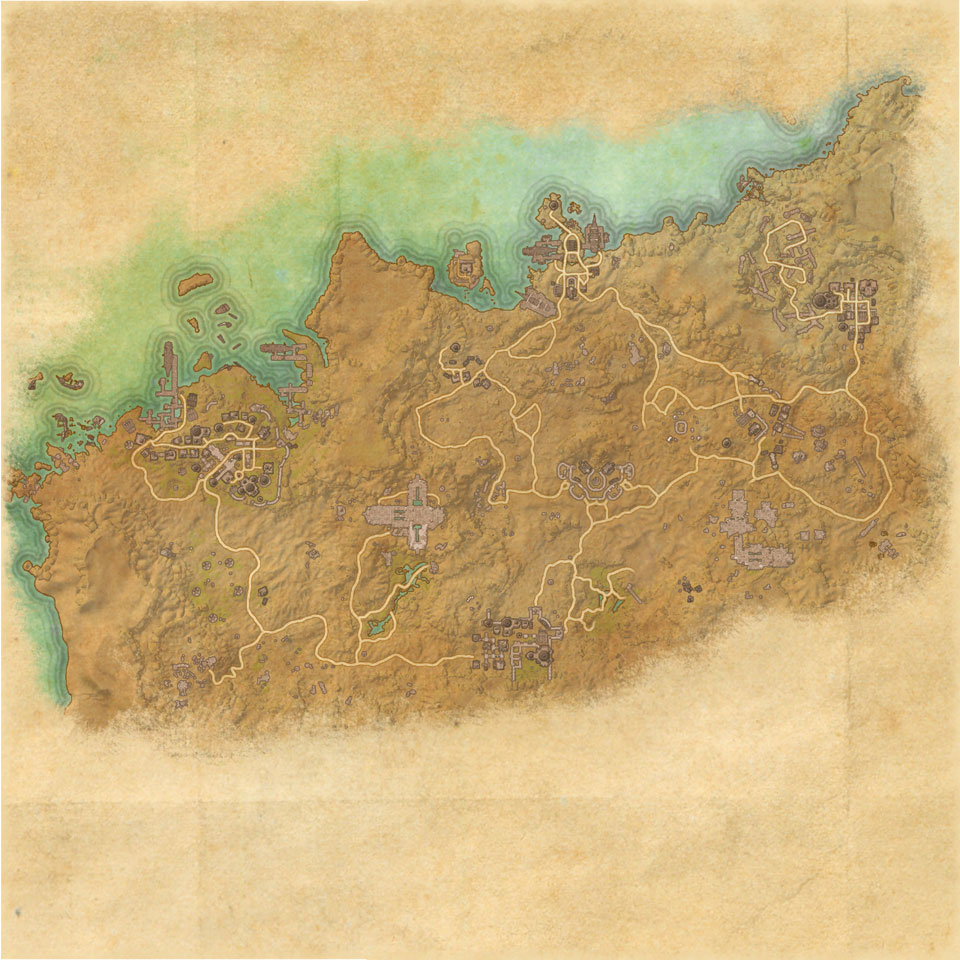 Alik'r Desert
Bergama
Kozanset
Sentinel
Bergama
Kozanset
Sentinel
Satakalaam
Tava's Blessing
Leki's Blade
Sentinel Docks
Morwha's Bounty
Rain Catcher Fields
Saltwalker Militia Camp
Sep's Spine
Tears of the Dishonored
Ogre's Bluff
Salas En
Ancestor's Landing
HoonDing's Watch
Tu'whacca's Throne
Kulati Mines
Motalion Necropolis
Volenfell
Lost City of the Na-Totambu
Aldunz
Coldrock Diggings
Divad's Chagrin Mine
Sandblown Mine
Santaki
Yldzuun
Forsaken Hearts Cave

---

This is a small cave inhabited by a harvester named Korignah.

Achievement:

Korignah's Bane: Defeat Korignah the harvester in the Forsaken Hearts Cave.
Giant Camp

---

This is a camp located north of Leki's Blade. A giant named Lonely Papa resides here.

Achievement:

Lonely Papa's Doom: Defeat the giant, Lonely Papa, at the Giant Camp.
Hag Camp

---

This is a camp inhabited by three hags named Igazkad, Orochar and Ukha.

Achievement:

Hag Upheaval: Kill the Hag Sisters, Igazkad, Orochar and Ukha, at the Hag Camp.
King's Rest

---

This is a camp guarded by the Mummy King.

Achievement:

Mummy King Murderer: Defeat the Mummy King at King's Rest.
Lesser Circle

---

This is a clearing located southeast of Sentinel. The golden saint Staada can be found here.

Achievement:

Saint Slayer: Defeat the golden saint, Staada, at the Lesser Circle.
Lost Caravan

---

This is a camp inhabited by a duneripper named Mother Sands.

Achievement:

Duneripper's Downfall: Defeat the duneripper, Mother Sands, at the Lost Caravan.
Hollow Waste Dolmen
Myrkwasa Dolmen
Tigonus Dolmen
The Ritual

---

This is a Mundus Stone found in Malabal Tor, Alik'r Desert, Eastmarch, and Cyrodiil. Activating the Ritual stone will grant you the permanent blessing of increased healing effectiveness.
The Thief

---

This is a Mundus Stone found in Malabal Tor, Alik'r Desert, Eastmarch, and Cyrodiil. Activating the Thief stone will grant you the permanent blessing of increased critical chance.
The Warrior

---

This is a Mundus Stone found in Malabal Tor, Alik'r Desert, Eastmarch, and Cyrodiil. Activating the Warrior stone will grant you the permanent blessing of increased power.
Alezer Kotu

---

This is a ruin located southeast of Sentinel. The ruin contains a special crafting site, where you may craft items in the Alessia's Bulwark set.
Artisan's Oasis

---

This is a camp located north of Bergama. The oasis contains a special crafting site, where you may craft items in the Vampire's Kiss set.

Related Quest:

Undying Loyalty: Help a dog called Musi find buried bones.
Rkulftzel

---

This is a a Dwemer ruin located south of Tava's Blessing. The ruin contains a special crafting site, where you may craft items in the Song of Lamae set.
Aswala's Remembrance
Duneripper Downs
Easterly Aerie
Hatiha's Camp
Na-Totambu's Landing
Ragnthar
Wayfarer's Wharf
Aswala Stables Wayshrine
Bergama Wayshrine
Divad's Chagrin Mine Wayshrine
Goat's Head Oasis Wayshrine
HoonDing's Watch Wayshrine
Kulati Mines Wayshrine
Leki's Blade Wayshrine
Morwha's Bounty Wayshrine
Satakalaam Wayshrine
Sentinel Wayshrine
Sep's Spine Wayshrine
Shrikes' Aerie Wayshrine
Alik'r Desert Treasure Map I
Alik'r Desert Treasure Map II
Alik'r Desert Treasure Map III
Alik'r Desert Treasure Map IV
Alik'r Desert Treasure Map V
Alik'r Desert Treasure Map VI
Alik'r Desert Treasure Map CE
Alchemist Survey: Alik'r
Blacksmith Survey: Alik'r
Clothier Survey: Alik'r
Enchanter Survey: Alik'r
Woodworker Survey: Alik'r
Skyshard (Sentinel of a domed tower)
Skyshard (Shedding shame in the oasis)
Skyshard (Across the ruin from the Warrior)
Skyshard (Stored on a Bergama roof)
Skyshard (Walltop view of the broken blade)
Skyshard (Beside a drydocked stern)
Skyshard (Left out in the open by Kozanset Mages)
Skyshard (Near a paid feather-finder)
Skyshard (Tears shed for a toppled spire)
Skyshard (Second stop on her search for the Pearl)
Skyshard (Buried respite from desert heat)
Skyshard (Dig deep, don't be embarrassed)
Skyshard (Blown down a mine shaft)
Skyshard (A caravan's wreckage marks the path)
Skyshard (Trapped within the steam closet)
Skyshard (Monumental find in the Lost City)