The Elder Scrolls Online, Map of Greenshade
Greenshade
Life flourishes beneath the lush canopy of Valenwood, fed by snaking rivers and plentiful resources. Worshipers of the Daedric Prince Hircine have been seizing unwary travelers in Greenshade. Attacks are often prefaced by unnatural howling and hunting horn blasts.
Alliance: Aldmeri Dominion.
Part of: Valenwood (The homeland of the Wood Elves).
Cities: Marbruk, Woodhearth.
Greenshade Skyshards
Flee the labyrinth of words and stone (South of Labyrinth Wayshrine, east of Labyrinth).
In crumbled keep where shadow creeps (Within the large keep of Shadows Crawl, northwest of Labyrinth Wayshrine).
Breath of fresh air for Marbruk's mages (On the second floor of Mages Guild in Marbruk).
Find an eclectic outskirt by the sea (East of Five Claws Inn, in the southwestern part of Woodhearth).
Where moor becomes moat (Between Naril Nagaia solo dungeon and Shademist Moors).
Stay dry where the Wooded Eye wards (Just south of Serpent's Grotto and Serpent's Grotto Wayshrine).
No longer entrenched (Near to the entrance into Barrow Trench dungeon).
Unheeded by Wood Orc lookouts (On top of a tall tower west of Green's Marrow Dolmen).
Down in the gorge of rope bridges (Just northeast of a nearby Falinesti Wayshrine).
In Gurzag's supplies (Inside Gurzag's Mine solo dungeon).
Halls ruined further by blue-skin brutes (Inside Carac Dena solo dungeon).
A pretender in Naril Nagaia (Inside Naril Nagaia solo dungeon).
Under root, but hidden high (Inside The Underroot solo dungeon).
Batted around in the purring lair (Inside Harridan's Lair solo dungeon).
Mined up in a barrow (Inside Barrow Trench solo dungeon).
Outside the Harbinger's chamber (Inside Rulanyil's Fall public dungeon).
Rulanyil's Fall (Public Dungeon)
Name
Description
Points
Category
Rulanyil's Fall Vanquisher
Defeat three of the champions in Rulanyil's Fall.
10
Dungeons:
Public Dungeons
Rulanyil's Fall Conqueror
Defeat all of the champions in Rulanyil's Fall.
50
Dungeons:
Public Dungeons
Rulanyil's Fall Group Event
Defeat the undead hordes of Hergor the Fallen at Rulanyil's Fall.
50
Dungeons:
Public Dungeons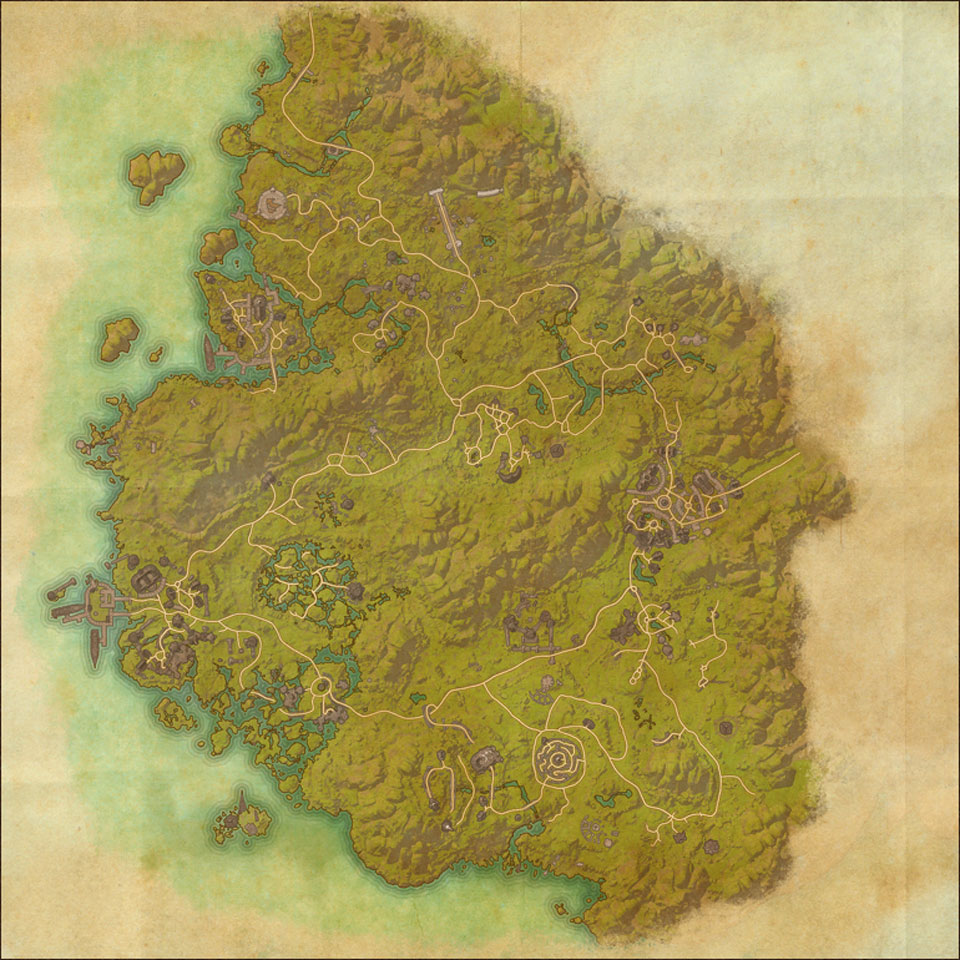 Greenshade
Marbruk
Woodhearth
Marbruk
Woodhearth
Dread Vullain
Spinner's Cottage
Greenheart
Bramblebreach
Falinesti Spring Site
Rootwater Grove
Shademist Moors
Verrant Morass
Driladan Pass
Hectahame
Labyrinth
Moonhenge
Seaside Sanctuary
Shadows Crawl
Serpent's Grotto
Shrouded Vale
City of Ash
Rulanyil's Fall
Barrow Trench
Carac Dena
Gurzag's Mine
Harridan's Lair
Naril Nagaia
The Underroot
Gathongor's Mire

---

This is a swampy island south of Woodhearth inhabited by the crocodiles.

Achievement:

Gathongor Hunter: Defeat the giant crocodile, Gathongor the Mauler, at Gathongor's Mire.
Maormer Camp

---

This is a camp on an island off the coast of Greenshade. A Maormer smuggler named Jahlasri and her companions resides here.

Achievement:

Sea Elf's Woe: Defeat the Sea Elf, Jahlasri, and her Maormer companions at the Maormer Camp.
Pelda Tarn

---

This is a small Ayleid ruin guarded by a storm atronach named Zymel Etitan.

Achievement:

Zymel Chaser: Defeat the Storm Atronach, Zymel Etitan, at Pelda Tarn.
Reconnaissance Camp

---

This is a camp occupied by the Argonian Maheelius and his spies.

Related Quest:

Scaled Captors: Rescue the Bosmer scouts from their captors.

Achievement:

Spy Smasher: Defeat the Argonian Maheelius and his force of spies at the Reconnaissance Camp.
Rootwater Spring

---

This is a small bog inhabited by the stranglers and guarded by a lurcher named Heart of Rootwater.

Achievement:

Rootwater's Demise: Defeat the lurcher known as the Heart of Rootwater at Rootwater Spring.
Thodundor's View

---

This is a hill inhabited by an ogre named Thodundor of the Hill.

Achievement:

King of the Hill: Defeat the ogre, Thodundor of the Hill, at Thodundor's View.
Drowned Coast Dolmen
Green's Marrow Dolmen
Wilderking Court Dolmen
The Atronach

---

This is a Mundus Stone found in Greenshade, Rivenspire, Shadowfen, and Cyrodiil. Activating the Atronach stone will grant you the permanent blessing of increased Magicka regeneration.
The Serpent

---

This is a Mundus Stone found in Greenshade, Rivenspire, Shadowfen, and Cyrodiil. Activating the Serpent stone will grant you the permanent blessing of increased combat health regeneration.
The Shadow

---

This is a Mundus Stone found in Greenshade, Rivenspire, Shadowfen, and Cyrodiil. Activating the Shadow stone will grant you the permanent blessing of increased critical strike damage.
Arananga

---

This is an Ayleid ruin north of Labyrinth which contains a special crafting site, where you may craft items in the Magnus' Gift set.
Lanalda Pond

---

This is a small pond at the base of a tower north of Dread Vullain. The tower contains a special crafting site, where you may craft items in the Whitestrake's Retribution set.
Rootwatch Tower

---

This is a ruin in central Greenshade which contains a special crafting site, where you may craft items in the Hist Bark set.
Camp Gushnukbur
Echo Pond
Fisherman's Point
Hollow Den
Seaside Overlook
Tower Rocks Vale
Twin Falls Rest
Falinesti Wayshrine
Greenheart Wayshrine
Labyrinth Wayshrine
Marbruk Wayshrine
Moonhenge Wayshrine
Seaside Sanctuary Wayshrine
Serpent's Grotto Wayshrine
Verrant Morass Wayshrine
Woodhearth Wayshrine
Greenshade Treasure Map I
Greenshade Treasure Map II
Greenshade Treasure Map III
Greenshade Treasure Map IV
Greenshade Treasure Map V
Greenshade Treasure Map VI
Greenshade Treasure Map CE
Alchemist Survey: Greenshade
Blacksmith Survey: Greenshade
Clothier Survey: Greenshade
Enchanter Survey: Greenshade
Woodworker Survey: Greenshade
Skyshard (Flee the labyrinth of words and stone)
Skyshard (In crumbled keep where shadow creeps)
Skyshard (Breath of fresh air for Marbruk's mages)
Skyshard (Find an eclectic outskirt by the sea)
Skyshard (Where moor becomes moat)
Skyshard (Stay dry where the Wooded Eye wards)
Skyshard (No longer entrenched)
Skyshard (Unheeded by Wood Orc lookouts)
Skyshard (Down in the gorge of rope bridges)
Skyshard (In Gurzag's supplies)
Skyshard (Halls ruined further by blue-skin brutes)
Skyshard (A pretender in Naril Nagaia)
Skyshard (Under root, but hidden high)
Skyshard (Batted around in the purring lair)
Skyshard (Mined up in a barrow)
Skyshard (Outside the Harbinger's chamber)