The Elder Scrolls Online, Map of Cyrodiil
Cyrodiil
Cyrodiil is the central province of Tamriel and home of the Imperials, who stand alone in the Alliance War.
Alliance: Disputed.
The central province of Tamriel (The homeland of the Imperials).
Cities: Bruma, Cheydinhal, Chorrol, Cropsford, Vlastarus.
Cyrodiil Skyshards
There are 46 Skyshards in Cyrodiil, which is split 15 per each Alliance Territory, and 1 can be found in a Mountain range.
Within sight of Mnem.
Ascending toward prophecy and dawn.
Helping establish a new town.
Tooth of Jone or Jode.
Ruined spire peering north to the Tower.
Hears hacking to the east.
Upon timbered fingers.
Ruin's crown between three castles.
Where archers of the Eight train.
Six-legged assassins crawl the cave (Inside Bloodmayne Cave solo dungeon).
The Black Dagger's prize (Inside Breakneck Cave solo dungeon).
Singing straw's song (Inside Haynote Cave solo dungeon).
Walk the Shadowed Path (Inside Nisin Cave solo dungeon).
At the end of a bumpy road (Inside Pothole Caverns solo dungeon).
Where bear and ogre burrow (Inside Serpent Hollow Cave solo dungeon).
Approach the southern scroll.
Overlooking Ni-Mohk's falls.
Near liquid fire flowing.
Decorating a Nord's manor grounds.
Offering at the priory.
Atop a crumbling Empire.
Home of the goat-faced altar.
Search near the cliffs ... cliffs ... cliffs...
Where a ruin-seeking Khajiit is denied.
Bandits' crowning achievement (Inside Capstone Cave solo dungeon).
Amid reverberations of clattering bones (Inside Echo Cave solo dungeon).
Vampires prowl where Elves once lived (Inside Lipsand Tarn solo dungeon).
In a cave of crimson treasures (Inside Red Ruby Cave solo dungeon).
Surrounded by frozen fungus (Inside Toadstool Hollow solo dungeon).
Under shroud and ground (Inside Underpall Cave solo dungeon).
Near the scroll of royalty's secret syllable.
Rope ladder hangs south of Ghartok.
Keeping the crops alive.
Cradled in a ruined temple hall.
The Arvinas' pride.
Blue Road's trees fall just down the hill.
Where bound spirits hold vigil.
Soft wings spin choral garb.
Wedged well in Sedor.
Fractured by the Bloody Hand (Inside Cracked Wood Cave solo dungeon).
The monarch's buried secret (Inside Kingscrest Cavern solo dungeon).
Enjoy a good roll in the muck (Inside Muck Valley Cavern solo dungeon).
Nurtured by amphibious host (Inside Newt Cave solo dungeon).
Rushing water in the depths (Inside Quickwater Cave solo dungeon).
Facing the Faceless (Inside Vahtacen solo dungeon).
Where White Fall reaches for Aetherius.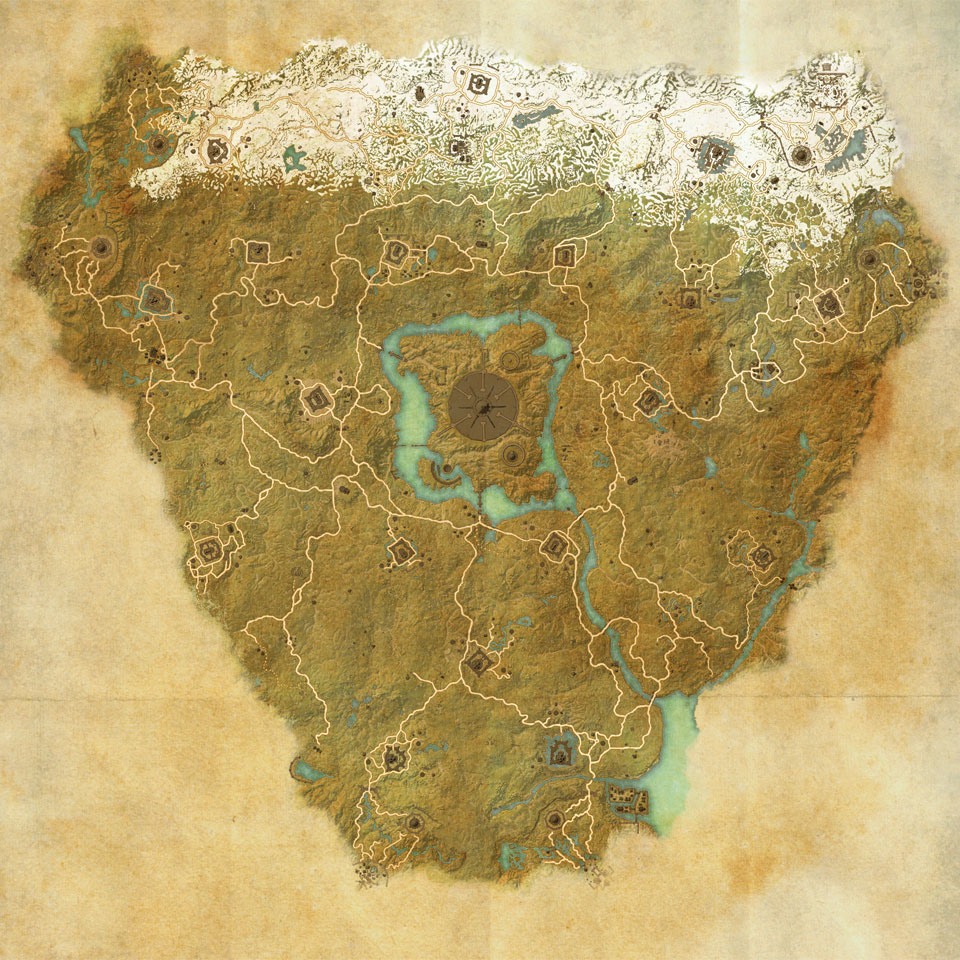 Cyrodiil
Imperial City
Bruma
Cheydinhal
Chorrol
Cropsford
Vlastarus
Abbey of the Eight
Burned Estate
Crooked Finger Redoubt
Gray Viper Outpost
Hackdirt
Harlun's Watch
Hedoran Estate
Highlander Camp
Ice-Heart Home
Lunar Fang Docks
Riverwatch
Shurgak Clan Estate
Temple of the Ancestor Moths
Thalara's Winery
Weye
Weynon Priory
Wilminn's Winery
Zimar's Winery
Alessia Bridge
Ash Milegate
Chalman Milegate
Chorrol Milegate
Culotte Bridge
Horunn Milegate
Niben Bridge
Odiil Milegate
Winter Gate
Anga
Belda
Ceyatatar
Culotte
Fanacas
Fanacasecul
Hrotanda Vale
Juras' Fall
Lake Mist Ruins
Lindai
Moranda
Nagastani
Narsinfel
Ninendava
Nornal
Nornalhorst
Piukanda
Sardavar Leed
Sedor
Sercen
Wenyandawik
Bloodmayne Cave
Breakneck Cave
Capstone Cave
Cracked Wood Cave
Echo Cave
Haynote Cave
Kingscrest Cavern
Lipsand Tarn
Muck Valley Cavern
Newt Cave
Nisin Cave
Pothole Caverns
Quickwater Cave
Red Ruby Cave
Serpent Hollow Cave
Toadstool Hollow
Underpall Cave
Vahtacen
Applewatch Wood Dolmen
Cheydinhal Foothills Dolmen
Eastern Shore Dolmen
Great Forest Dolmen
Greenmead Dolmen
Niben Basin Dolmen
Nibenay Valley Dolmen
Northwestern Shore Dolmen
Winter's Reach Dolmen
The Apprentice
The Atronach
The Lady
The Lover
The Mage
The Ritual
The Serpent
The Shadow
The Steed
The Thief
The Tower
The Warrior
Abandoned Orchard
Empire Tower
Moffka's Lament
White Fall Mountain
Wooden Hand Outlook
Barren Cave
Howling Cave
Cloud Ruler Temple
Coldcorn Ruin
Homestead Ruins
Waterside Mine
Eastern Elsweyr Gate
Western Elsweyr Gate
Gate of Altadoon
Gate of Mnem
Scroll Temple of Altadoon
Scroll Temple of Mnem
Northern High Rock Gate
Southern High Rock Gate
Gate of Alma Ruma
Gate of Ni-Mohk
Scroll Temple of Alma Ruma
Scroll Temple of Ni-Mohk
Northern Morrowind Gate
Southern Morrowind Gate
Gate of Chim
Gate of Ghartok
Scroll Temple of Chim
Scroll Temple of Ghartok
Castle Alessia
Castle Black Boot
Castle Bloodmayne
Castle Brindle
Castle Faregyl
Castle Roebeck
Nikel Outpost
Fort Aleswell
Fort Ash
Fort Dragonclaw
Fort Glademist
Fort Rayles
Fort Warden
Bleaker's Outpost
Arrius Keep
Blue Road Keep
Chalman Keep
Drakelowe Keep
Farragut Keep
Kingscrest Keep
Sejanus Outpost