The Elder Scrolls Online, Map of Glenumbra
Glenumbra
Daggerfall city stands proud in this landscape of rugged woods and fetid swamps. Werewolves have been sighted more and more frequently in the woods, and all of Glenumbra may be in danger.
Alliance: Daggerfall Covenant.
Part of: High Rock (The homeland of the Bretons).
Capital City: Daggerfall. Cities: Aldcroft, Camlorn, Crosswych.
Glenumbra Skyshards
Guarding Daggerfall's eastern gates (Just outside Daggerfall's East Gate).
Before Dresan's headless sentinel (Northeast of Wyrd Tree Wayshrine, in the courtyard of Dresan Keep).
Search amongst the shrieks (Southwest of Wyrd Tree Wayshrine, next to the Remly brothers (quest The Dagger's Edge)).
Westtry's dead slept underneath (Southwest of Eagle's Brook Wayshrine, on a crypt mound in Westtry).
Far behind the Elf-haters' lines (Northwest of Aldcroft Wayshrine, in the western part of Glenumbra Moors).
Beneath a Hag's footbridge (Southwest of Hag Fen Wayshrine, in the southern part of Hag Fen, beneath a bridge).
Where vines strangle the sleeping dead (Northeast of Lion Guard Redoubt Wayshrine, inside the area of Cath Bedraud).
Close to finding the kings (Southeast of Burial Tombs Wayshrine, near to Tomb of Lost Kings).
A climb above Crosswych (Northeast of Crosswych Wayshrine, on a scaffolding above Crosswych's mine).
A tower explored is Ilessen learned (Inside Ilessan Tower solo dungeon).
Near Silumm's well on Daggerfall shores (Inside Silumm solo dungeon).
Within a mine of blood and thorns (Inside Mines of Khuras solo dungeon).
Behind a wall to Enduum all (Inside Enduum solo dungeon).
Where Ebon Crypts become Ebon Caves (Inside Ebon Crypt solo dungeon).
In the bowels of Cryptwatch (Inside Cryptwatch Fort solo dungeon).
In the roots of the Hallows (Inside Bad Man's Hallows public dungeon).
Bad Man's Hallows (Public Dungeon)
Name
Description
Points
Category
Bad Man's Hallows Vanquisher
Defeat three of the champions in Bad Man's Hallows.
10
Dungeons:
Public Dungeons
Bad Man's Hallows Conqueror
Defeat all of the champions in Bad Man's Hallows.
50
Dungeons:
Public Dungeons
Bad Man's Hallows Group Event
Slay the Giant Snake Mother in Bad Man's Hallows.
50
Dungeons:
Public Dungeons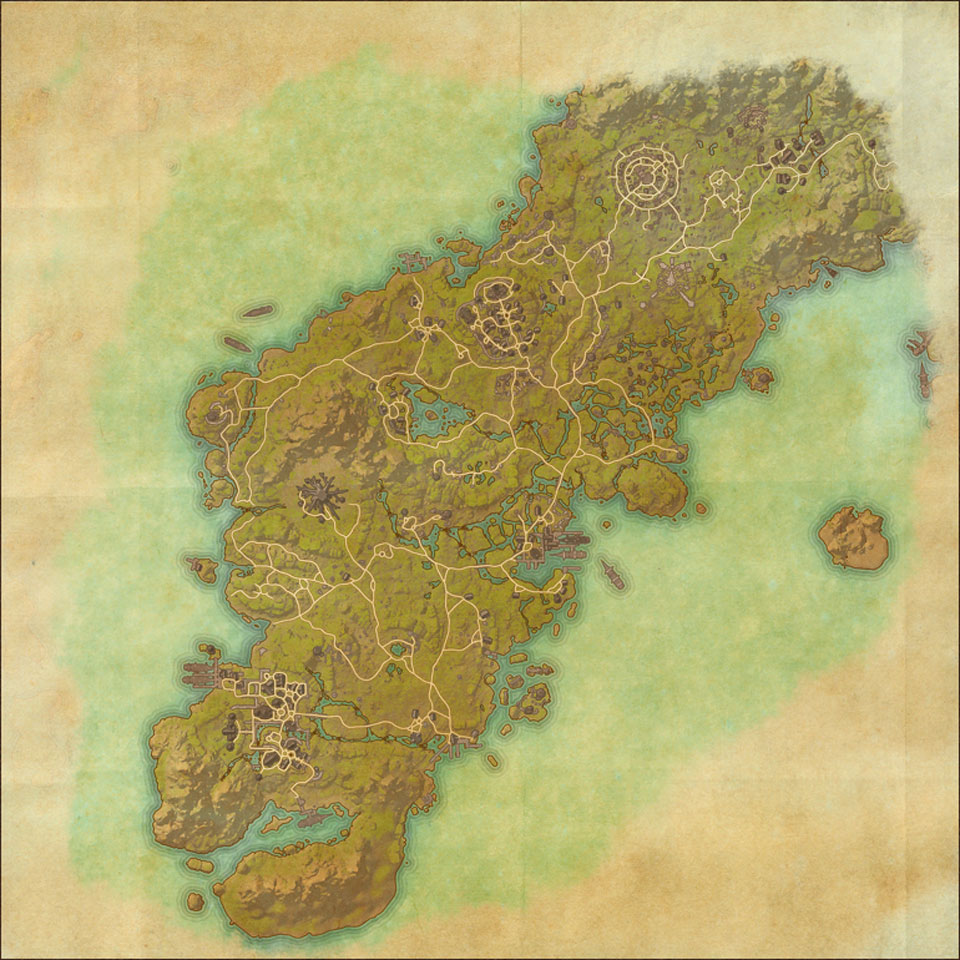 Glenumbra
Daggerfall
Aldcroft
Crosswych
Daggerfall
Aldcroft
Crosswych
Camlorn
Eagle's Brook
Westtry
Daggerfall Southern Docks
Lighthouse
Farwatch Tower
The Harborage
Lion Guard Redoubt
Red Rook Camp
Shrieking Scar
Deleyn's Mill
Beldama Wyrd Tree
Hag Fen
Vale of the Guardians
Dwynnarth Ruins
Baelborne Rock
Cambray Pass
Dresan Keep
Cath Bedraud
Burial Mounds
Tomb of Lost Kings
Glenumbra Moors
Spindleclutch
Bad Man's Hallows
Cryptwatch Fort
Ilessan Tower
Ebon Crypt
Enduum
Mines of Khuras
Silumm
Balefire Island

---

This is an island off the coast of Glenumbra. A necromancer named Grivier Bloodcaller resides here.

Achievement:

Grivier Hunter: Kill the necromancer, Grivier Bloodcaller, at Balefire Island.
North Shore Point

---

This is an island in the lake east of Westtry. A zombie named Asard the Putrid resides here.

Achievement:

Asard Hunter: Kill the Bloodthorn zombie, Asard the Putrid, at North Shore Point.
Seaview Point

---

This is a beach-side cave inhabited by a bear named Graufang.

Achievement:

Graufang Hunter: Kill the giant bear, Graufang, at Seaview Point.
The Wolf's Camp

---

This is a small camp inhabited by a pack of werewolves led by Salazar the Wolf.

Achievement:

Wolf Hunter: Kill the werewolf, Salazar the Wolf, at the Wolf's Camp.
Trapjaw's Cove

---

This is a swamp inhabited by a crocodile named Trapjaw.

Achievement:

Trapjaw Hunter: Kill the giant crocodile, Trapjaw, at Trapjaw's Cove.
Western Overlook

---

This is a hill just north of Daggerfall inhabited by a lurcher named Limbscather.

Achievement:

Limbscather Slayer: Defeat the lurcher Limbscather at the Western Overlook.
Cambray Hills Dolmen
Daenia Dolmen
King's Guard Dolmen
The Lady

---

This is a Mundus Stone found in Auridon, Glenumbra, Stonefalls, and Cyrodiil. Activating the Lady stone will grant you the permanent blessing of increased armor.
The Lover

---

This is a Mundus Stone found in Auridon, Glenumbra, Stonefalls, and Cyrodiil. Activating the Lover stone will grant you the permanent blessing of reduced damage from spells.
Chill House

---

This is an abandoned shack. Below the shack is a cave which contains a special crafting site, where you may craft items in the Death's Wind set.
Mesanthano's Tower

---

This is a tower on an island off the coast of Hag Fen. The tower is home to a special crafting site, where you may craft items in the Night's Silence set.
Par Molag

---

This is an Ayleid ruin north of Cath Bedraud, and is home to a special crafting site, where you may craft items in the Ashen Grip set.
Dourstone Isle
Gaudet Farm
Merovec's Folly
Miltrin's Fishing Cabin
Mire Falls
Tangle Rock
Valewatch Tower
Aldcroft Wayshrine
Baelborne Rock Wayshrine
Burial Tombs Wayshrine
Crosswych Wayshrine
Daggerfall Wayshrine
Deleyn's Mill Wayshrine
Eagle's Brook Wayshrine
Farwatch Wayshrine
Hag Fen Wayshrine
Lion Guard Redoubt Wayshrine
North Hag Fen Wayshrine
Wyrd Tree Wayshrine
Glenumbra Treasure Map I
Glenumbra Treasure Map II
Glenumbra Treasure Map III
Glenumbra Treasure Map IV
Glenumbra Treasure Map V
Glenumbra Treasure Map VI
Glenumbra Treasure Map CE
Alchemist Survey: Glenumbra
Blacksmith Survey: Glenumbra
Clothier Survey: Glenumbra
Enchanter Survey: Glenumbra
Woodworker Survey: Glenumbra
Skyshard (Guarding Daggerfall's eastern gates)
Skyshard (Before Dresan's headless sentinel)
Skyshard (Search amongst the shrieks)
Skyshard (Westtry's dead slept underneath)
Skyshard (Far behind the Elf-haters' lines)
Skyshard (Beneath a Hag's footbridge)
Skyshard (Where vines strangle the sleeping dead)
Skyshard (Close to finding the kings)
Skyshard (A climb above Crosswych)
Skyshard (A tower explored is Ilessen learned)
Skyshard (Near Silumm's well on Daggerfall shores)
Skyshard (Within a mine of blood and thorns)
Skyshard (Behind a wall to Enduum all)
Skyshard (Where Ebon Crypts become Ebon Caves)
Skyshard (In the bowels of Cryptwatch)
Skyshard (In the roots of the Hallows)